Ted Murin strikes again. He's found what is most likely a third-winter Slaty-backed Gull at the Sandbar Causeway across Lake Champlain between Milton and South Hero. This large, dark-backed gull breeds in the northern Pacific from Siberia to northern Japan. It is a regular visitor to Alaska. But the species does tend to wander far in winter. This one, seen most recently on January 9, would be Vermont's first.
Pictured here (including above) is an adult Slaty-backed Gull I photographed in Gloucester, Massachusetts, on December 26, 2007. Note the dirty head, bubble-gum-colored legs, broad white edge to the tertials and the distinctive "string of pearls" on the primaries, a row of submarginal (interior) white spots on most of the outer primaries. The mark is also visible in the slow-motion-flapping portions of my video below; pause the playback periodically for views of the wing tips.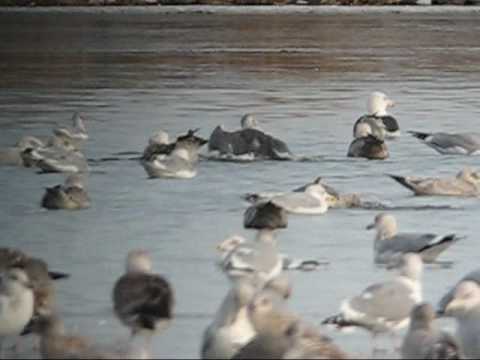 Ted and another one of Vermont's elite birders, Allan Strong, would have liked better looks at this gull. It wasn't particularly cooperative, and they both know well that it can be tough to rule out hybrids or other gull oddities, which are many. To be sure, these guys are careful and cautious observers. Each is reporting this bird — and writing it up — as a Slaty-backed Gull. That alone is enough to get you out to the Sandbar Causeway. A fish die-off has the place lousy with gulls and Bald Eagles.
Stay tuned for updates on this amazing find… .